| | | |
| --- | --- | --- |
| « | Blubbing Moves To Radio | » |
I am a great blubber when watching movies. I never used to be. I used to be able to sit through everything like a man. And then I saw Four Weddings and a Funeral for the first time and when Matthew recites Auden's Funeral Blues ("Stop all the clocks..." etc) at Gareth's funeral the flood gates opened. I wept buckets. And it's not really stopped since to be honest.
I've never had quite the same reaction I had to Four Weddings since but it's very common for me to be moist eyed at some point in a movie.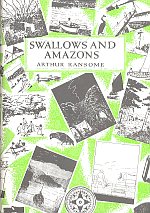 But now it seems to have moved to a new level. Last night I caught the first part of Swallows and Amazons on BBC iPlayer (it's being broadcast on BBC Radio 4 Extra at the moment).
If I'm honest I was worried: Swallows and Amazons is one of my favourite books, one I only discovered as an adult, and I feared they'd have some child actors being ... well, just inappropriate.
And it started badly. The book opens with Roger tacking his way across a field towards his mother. He can't run directly towards her because he's a tea clipper. For me it's probably the most memorable opening paragraph in any book I own.
The programme starts at on a train as they head for Lakeland.
No, no, no.
But then a miracle. They had done something rather clever: they had taken Titty and made her as her elderly self be the narrator of the tale. The elderly Titty was played by Jean Anderson and it was an inspired choice as she does it so beautifully. Not only does she fill in the descriptive gaps for this radio adaptation but also neatly explains away some of the anachronisms, for example there's a delightful little aside where she notes that "Titty" seems like an odd name for a girl now but didn't then.
I loved it. And especially Jean's voice telling the tale between the children acting their hearts out and doing a fine job of it too. To the point where, while Jean was speaking, I found myself crying.
Normally it's sad bits in movies that make me cry but this time I think it was tears of happiness that I'd found something so perfect.