Tonight I was lamenting to Beth, yet again, the sad demise of Google Latitude and the feature I liked best, its location history. Although Google did resurrect a similar friend finder facility in Google+, now called Google+ Location it's only accessible from your phone, not from your PC, and it only seemed to be real time.
But in the Google Setting app under "Location Services|Google Location Reporting" is a setting for "Location History" which I had set to "On" so what was it doing? Tonight I found out. This is the magic URL (you need to be logged into Google+ first):
https://maps.google.com/locationhistory/b/0
Go there and and you get to see your location history on Google Maps, assuming that you have location history turned on. Initially just today but you can select a date range. For example here's the two weeks we were away recently researching the Cumbria Way: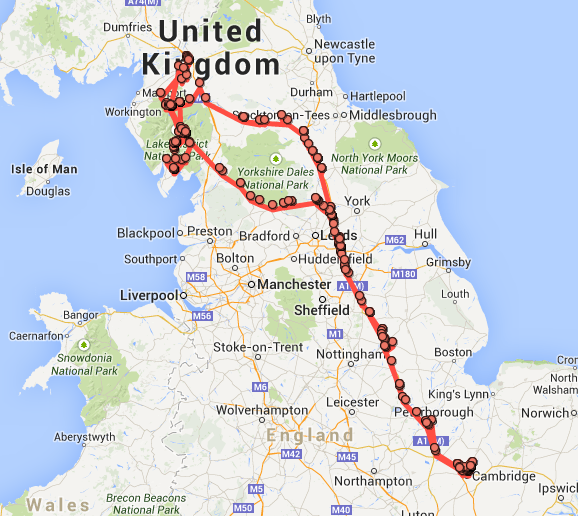 It's not perfect. I'm sure the old one let you select any date range, this one only lets you pick limited ranges of its choosing up to thirty days, but even so it's handy. You can also export the data to KML.
It also relies on mast locations (and WiFi SSIDs if you have WiFi on) rather than GPS unless you want to burn through battery really fast so it's not super accurate but one thing I do notice looking at my track around Cambridge today is that it's a lot more accurate than it used to be. I suspect that's down partially to spending much more time on 3G mast (and hence smaller cells).
Anyway nice to see it back.
| | |
| --- | --- |
| Tags: toys | Written 23/06/14 |