| | | |
| --- | --- | --- |
| « | Chromebook, First Thoughts | » |
I'm writing this on my shiny new Lenovo n20p Google Chromebook, which I've now had for just over a week. Typing on it is something of a frustrating experience as the keyboard is, to put it mildly, not very good. The whole keyboard flexes when you press a key and unless you press positively it misses key presses. In fact it does even if you do.
On top of this the keyboard layout is rather eccentric. So there are no PgUp or PgDn keys (you use Alt-Up and Alt-Down) and no Delete (Alt-Backspace) and the function keys are replaced by dedicated keys for: back, forward, reload in browser history, make current application full screen (i.e. F11 type functionality), a button to tile the open applications, five buttons for brightness and volume up and down, and volume mute and finally one for keyboard lock.
There is no caps lock. That's replaced by a "search" button. That also doubles as a shift button. Hold that down and top row buttons becomes F keys!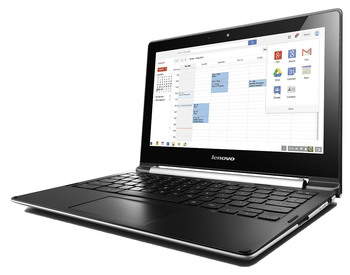 So all of this isn't that great. But in truth it doesn't matter because it's not really what this device is for. What you've got here is a fast, capable web browser, with some extra knobs and whistles. And it's very good at that.
The 11.6" screen is a nice size, very similar to my old Acer Netbook but higher resolution at 1366x768 pixels. The battery lasts about six hours, and my favourite part, especially as I'm not a huge fan of glidepoint mice, is that it has a multi-point touch screen and although Chrome OS isn't specially a 10 point touch based OS it does make good use of this. So starting from simply tapping on screen to do a mouse click through using dragging and pinch zooming on my mapping application it all works very well. A while ago I got a couple of wands for use with my Nexus 7s and never used them but they work well with the small targets on Chrome OS.
The n20p also has 4GB of RAM, which was another tick box for me in my list when looking around for the right Chromebook to buy. Various commentators are suggesting that this should be your target for a Chromebook now, not 2GB.
The processor is a twin core 2.16GHz Celeron N2830 and it's fanless and runs very cool, which is nice as it spends a lot of time perched on your lap.
The only real down side on the hardware spec is that it's only got a 20GB SSD.
The Register liked this Chromebook and the reviewer put Linux on it, which is on my list of Things To Do later.
So there you have it. Seems OK so far. And you can do a lot in the Chrome OS "browser", even edit images: I cropped the image above using the Pixlr Editor app so the whole of this post really was done on the Chromebook.
But what it really gives me is a far better device for sofa surfing than my Netbook and one which, among other things, can play Netflix videos at full screen resolution without batting an eyelid, renders facebook in finite time (which the Netbook really struggles with now) and is generally very nippy on pretty much any web content you throw at it.
But did I mention the keyboard? It sucks.