Whenever I get my new Private Eye every other Wednesday morning then I follow the same ritual: I read the cover, then flick through to look at all the cartoons and then work my way through the letters page, usually with the previous edition to hand as letters often refer back.
As people who read the Eye regularly will know there's a regular feature in the letters page where people find spurious excuses for them to re-print a very old black and white photo of Andrew Neil in a vest with a dusky skinned younger woman (who I think may be Pamella Bordes?). The letter is always headed "Photo Opportunity".
Well, last weekend, it came out in the press that Neil had married his girlfriend of the last five years or so. And she was younger and foreign (a Swede) so, quick as a flash as I knew I wouldn't be the only one, I banged off a letter to Private Eye. I've only ever written once before and it wasn't used. I know they get a lot of letters but for some reason I felt lucky this time as this morning, ta da, there it was: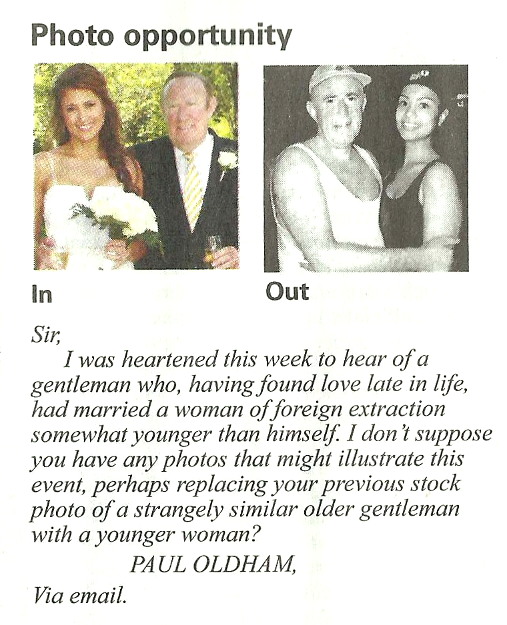 They didn't print my P.S. though:
(Yes, really folks, as much as I love that photo isn't it time to move on?)
A recent podcast1 said it wasn't been run as often as it once was, perhaps because Neil is looking less like a figure of fun after his performance during the last election and readers have been writing in less. Perhaps readers will find new vigour with the new photo.