Today we walked from Radwinter to Thaxted and back. It was a lovely day for early January with sunshine and very little wind. The only problem was the ground. Freshly ploughed and planted Essex soil cakes on your boots like nobody's business and the sections where the footpaths went across fields were a slog as was a long section down a very muddy byway.

On a bridleway - what a glorious day to be out walking!
On the plus side we did have an excellent walk. We were using a walk describe by Matthew Fry on his web site here so much kudos goes to him. He's also got some photos of the route, taken at a rather different time of year (just after harvest time).
Among the highlights for us today were that while walking down a broad drove road we surprised a heron which was fishing in the stream which ran along side it.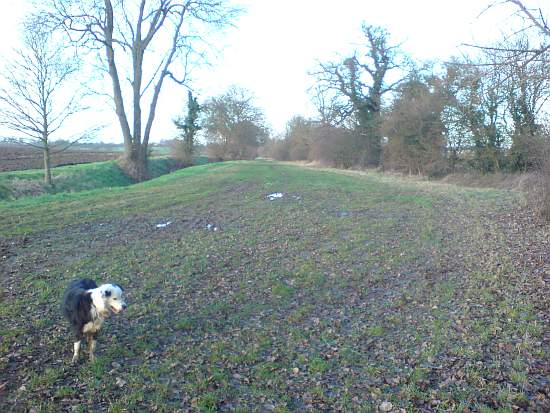 The drove road
It flew up from the ditch only a few feet away from us. I've never seen one in flight so close up before. As it flew over Jake's head he made a leap up for it, but it was already too high to be in any danger.

Beth and Jake pausing for a moment
And having seen a lot of deer tracks in the mud as we walked along we also saw a red deer stag as we got close to the end of the walk. He was about half a field away and shot off across the fields.
To round things off as we walked across the last field back into Radwinter the church clock greeted us by chiming the three quarter hour on its Westminster chimes.

Radwinter Church
You can find the complete route described here using Google Maps.
This is also the second time I've used my new Garmin Foretrex 101 which is a very fine piece of kit and was a Christmas present from Beth.
Last weekend we did a circuit of Epping Forest and I used it then too but only to check our location. This time I downloaded our route into it and then used it to navigate - it worked rather well. I built the route as a GPX file using Google Maps and the Merengo GPS Route Planner and I've put the GPX file online here (GPS Exchange, 0KB) in case you want to grab it for your own use.