After doing a brief walk yesterday1 we thought we should do a proper walk today but there was quite a strong wind forecast so a walk among the trees seemed like a good plan. We've already been to The King's Forest2 (part of Thetford Forest) once this year but last time I had one of my turns so we only did about a mile.
This time we did 11.1 miles, with a moving average of 2.9mph as it was pretty easy walking on solid forest tracks for most of the time.

Track in The King's Forest
Walking in the woods was a wise choice: the winds was roaring in the trees overhead and whenever we came to a west-east track it was very windy but most of the walking was north-south so we did OK.
We saw several deer too, all Roe I think, but Beth spotted them all not me so my reputation is going off.
Part of the route was along the Icknield Way which Vicky mentioned in her blog recently.
It's a hell of long track: she saw it in Luton, which is close to its south western end, it passes through her ward south of Cambridge, which is roughly in the middle and here it is near the top end.
Up here it doesn't suffer from the problems she's describing though: this is well drained land (it seems to be a thin layer of earth over sand) and the byway appears to cope well with being driven even at this time of year as you can see in the photo on the right.
We saw a couple of trail bikers go up it just before we turned on to it and there's signs of recent 4x4 activity too but it's not a problem.
This is a real contrast to some of the byways we've walked this winter which are poorly drained and which the combined traffic on them has left them near impassable.

We came across a lot of logging on our route, two areas were closed on weekdays as they're in the middle of felling trees but you're allowed in at the weekend which gave me a chance to take an arty photo with the K800i of some logs in a stack.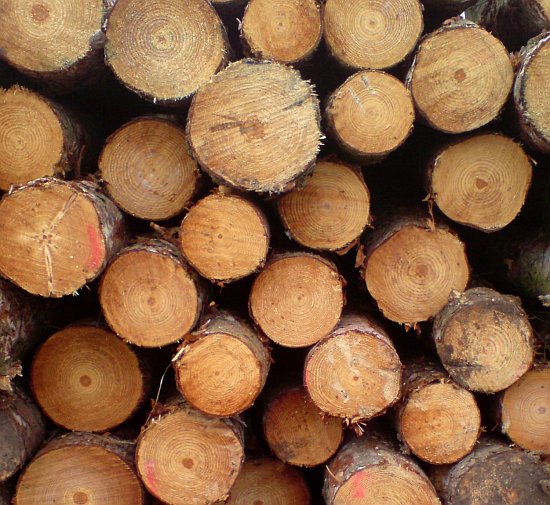 As usual here's the GPX file (GPS Exchange, 0KB) for the route if you want to put it in your GPS before you go and here it is on Google Maps.