| | | |
| --- | --- | --- |
| « | A Walk South From Royston | » |
Despite the day starting very murky we went for a walk south from Royston. This is one I planned some time ago but we didn't do for some reason (I was probably ill).
The weather did improve a bit as we went around but the murk never completely cleared which was a shame as there were clearly some nice views to be had. We saw deer again (it's becoming a habit) and the second time Beth got this photo: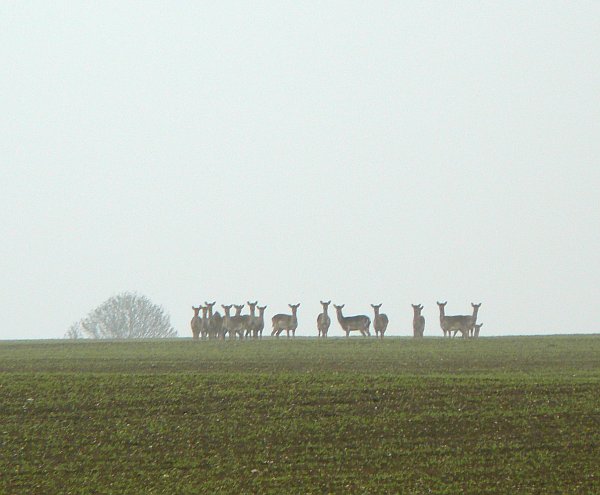 We also got lucky for lunch. I'd suggested we divert into the churchyard of Buckland church to have lunch, thinking they would likely have a bench.
It didn't. However although the church is now permanently closed the south porch is open and has benches along both walls, making an ideal place to have a spot of lunch (especially if it's raining - not that it was today).
The other highlight was being stopped by a driver on the north side of Reed. He was looking for the Queen's Head, Royston Road, Harston. "You're nowhere near it" I said but before we could continue more cars arrived which we were holding up.
"Don't worry" he said "I've got my TomTom" and off he drove.
We're still wondering how, given that he had a TomTom, he was on the wrong side of Royston and probably a good ten miles from Harston.
Anyway as usual here's the route on Google Maps and here's the GPX file (GPS Exchange, 0KB) for those with GPSs. Google claimed it was 10.6 miles, the GPS odometer said 11. Shrug.
---
Previous comments about this article:
On 20/04/08 at 9:44pm Paul wrote:

I've since worked it out why our friend with the TomTom was where he was ... I think. We were on a road called The Joint. Further back (i.e. in the direction from which he had come) it's called ... yup ... Royston Road.

Unsurprising really. After all we're near Royston right, so there's probably lots of Royston Roads.

But somehow he'd managed to select that one on his TomTom and now he'd run off the end of it without seeing the Queen's Head.