... I've got a pass. Yup, my bus pass arrived in the post this morning1. Isn't it lovely2?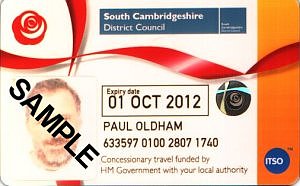 The orange strip down the right hand side is significant. It says to the driver "this person may look under 60 but they're not stealing their parent's pass" as the passes for the over 60s have a blue strip and the rest of us get orange.
I've been looking on the Web at what people are doing with their pass. The favoured option seems to be Lands End to Berwick-upon-Tweed (the pass only gives you free travel in England annoyingly enough). I'm not sure I've got the patience to be honest.
Looks like they've got a lot quicker than "2-3 weeks" now that the initial surge has gone through, it's only taken a week for it to come.