| | | |
| --- | --- | --- |
| « | To Aldeburgh for my Birthday | » |
So today we had a little outing to Aldeburgh for my birthday. The plan was to have a walk in Tunstall Forest, then have a little wander around Aldeburgh, do some shopping, look at the sea, and then fish and chips before heading home.
Well, we did actually do all of that.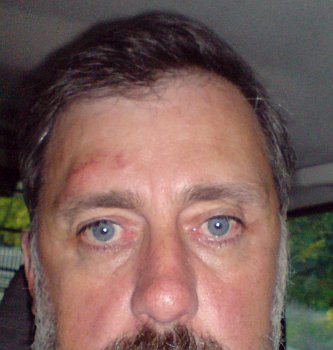 But things didn't quite go as planned.
First of all was Tunstall Forest where we'd gone only a couple of hundred yards before a tripped over a tree root stub on a dark path. This was then compounded by my other shoe's lace catching the lace of the shoe which had come to a sudden halt and I went flying landing very awkwardly head first.
I was really very shaken up and as well as that bruise on my head you can see on the right I've got some bruising around my lip, my teeth on that side aren't happy, both knees are scraped, and my ribs are bruised where I fell on my right arm as I went down.
With Beth's help I limped back to the car.

We drove to Aldeburgh and things started to improve again. After a while my headache faded and I felt a lot better. We both bought T shirts from the RNLI shop and Beth gained an RNLI bear. Then we drove out to the Martello Tower and walked on the beach there for a while.

Martello Tower (available for hire from the Landmark Trust)
While I was standing next to the sea below the tower I recorded the waves with my phone, which kind of worked as the clip below illustrates1.
Finally we returned to Aldeburgh for fish and chips. And very nice they were too.
The only problem was that we couldn't then start Dougal the Discovery again. The solenoid clicked but the starter motor didn't turn.
Beth tried rocking it. It didn't help. So time to call Britannia Rescue ... except there's no Vodafone coverage in Aldeburgh and after a lot a trudging around I couldn't find a phone box. In the end a nice lady just across the road took pity on us and let us use her phone (and subsequently took two messages for us!).
Britannia Rescue did fix it (by shorting across the solenoid) and we drove home being careful never to stall.
So a bit of a mixed day really. Certainly glad to be home.
---
Previous comments about this article:
On 03/07/09 at 10:08pm Ian Stuart wrote:

Hi Paul,

Viewed (and listened to) your message about The Day. Your fall sounded - and looked horrible.

Take Care.

Best,

Ian.