Flooding At Baits Bite Lock
This first set of pictures were taken at the end of Fen Road Milton, just north of Baits Bite lock at 15:30 on 5th February 2001. At this point the level was still rising fast.

Looking up the flooded tow path towards the lock. Fields both sides of the river are flooded.

Close up of the bridge over the drain from Milton where it enters the river. The line is the other bank of the river and the field beyond is flooded. Denny Abbey, top left, is still just above the water.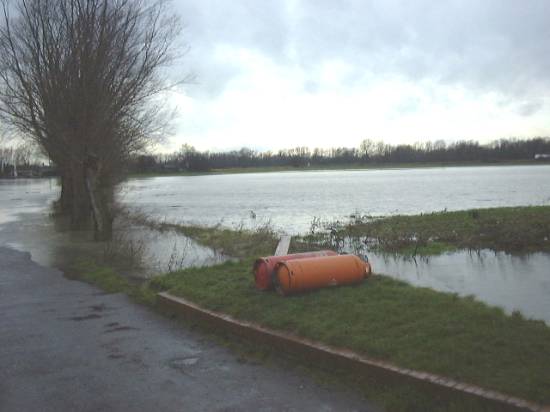 Looking south west across what should be the first field between the river and the railway line

Looking back towards Milton along the drain which has burst its bank on the field side.
---
I went again at 6:00pm and the water was still rising but it was too dark to take pictures. I went back at 8:00am this morning.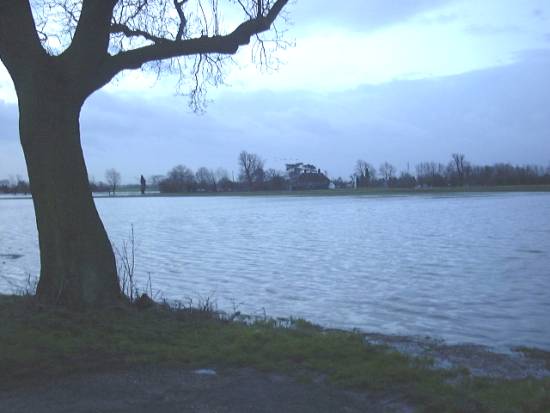 This is taken from the level crossing. The lock keeper's cottage is the building in the distance. The field nearest to the railway line is now flooded too.

This is the view looking north along a drain which runs parallel to the river (on your right) and the railway line (off the picture to your left). The fields north of Fen Road are now becoming flooded. The one nearest the river is pretty much covered.

And this is how some of the water is getting in to that field (most of it is coming via drains under the road). Fen Road is now flooded. Here's a distant shot.

And here's how it looks close up. The water is pouring across at this point. Your intrepid reporter paddled through (OK, OK, it was only an inch, but I did get wet feet).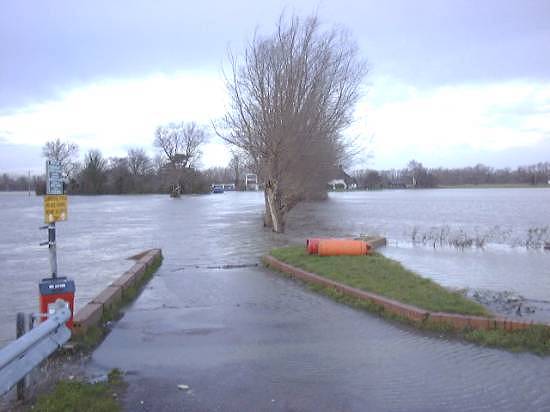 And from the end I took this shot looking up towards the lock. Compare and contrast with the first picture on this page to see how the water has risen.
---
For more pictures of the flooding check out Jenny's pictures of flooding in Chesterton and Pye/Simoco but be warned, they're a bit big so you may want to turn image loading off first if you're on a modem.
She's been out again today and there's another better structured page of pictures of Chesterton here
Various people have been posting links on cam.misc too. There's a good shot of the sand bag wall at Riverside in Cambridge here and other shots from Chris as an index page (just click on the filenames) here.
There's also some shots taken from the '99 RC boathouse looking across Midsummer Common here, here, and here.
Colin has put up some pictures taken from Elizabeth Way bridge which he took on Tuesday 6th.