| | | |
| --- | --- | --- |
| « | Having Fun With Seven Inches | » |
I remember the day I saw an iPad for the first time. It was on Waterbeach station and I was setting out on one of my "50 at 50" trips. Two young nerds were getting very excited over something and when I asked they showed me. And it was very cute: they had a "Winnie the Pooh" e-book open with full colour illustrations and they were scrolling through it. Touch screen, crisp graphics, page turn animations. Lovely.
But my problem, in the end, was for the price I really couldn't see what use I'd get out of a tablet, especially as I have a netbook which is already filling that functional niche for me. I did toy with buying an Asus Eee Pad Transformer. It's the closest I've found to something I'd spend real money on: a ten inch tablet which comes with an optional keyboard which doubles as a screen cover and also secondary battery. But they're retailing at around £400 which is a lot of money for something which doesn't seem to me to be built to last.
So in the end I continued to sit on my hands and watch the market.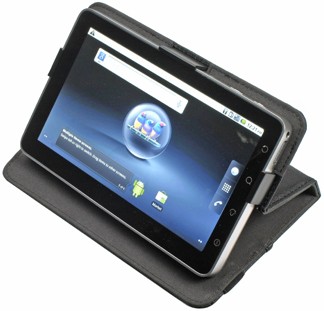 Two things came along which changed that. First I'd read with interest the views of several reviewers who thought that seven inch rather than ten (i.e. iPad et al) was a better size for a tablet and then a comparative review of budget tablets in The Register highlighted the Viewsonic ViewPad 7 as one of their recommendations.
The ViewPad 7 caught my attention not least because, unlike a lot of its competitors, it took a mobile phone SIM, and not a micro SIM either like an iPad - it took a full size SIM, so it would be easy to drop a giffgaff SIM into it.
Maplin and others had them for £180. I was tempted. But even so. Then, on the same day I did my tax return and discovered the tax man owed me £122 which I wasn't expecting, Amazon had a "factory return" ViewPad 7 on sale for £134 (without the headphones, big loss) so I snapped it up. So by my reckoning I got about tablet for about a tenner.
And I'm very pleased with it. Let me count the ways.
Something specific to this tablet but the case it comes in is rather nicely designed so that, as you can see in the photograph, you can fold in into a stand if you want to put the tablet on the desk.
Generally I just like having a device where I can quickly flick between various streams of text I'm interested in reading so typically that includes:


the weather forecast
the latest news from the BBC
the latest news from the Guardian
incoming email to my various email accounts
recent postings on Google+
recent postings on Twitter
recent postings on Facebook

Now all of these I can do on my phone as that's Android too but it's a lot easier on the tablet as it's larger and easier to read and prod at.
I'm also finding it easier to read e-books on this than on my Sony PRS-350 e-book reader (although the latter wins big time on battery life of course as it uses e-ink).
I like the way Google has syncing worked out. So for example if I take photos on my phone they get uploaded to my Google+ account in background ready for me to use in posts if I want to but also simply to provide a backup "in the cloud". If I then fire up the gallery application on the Viewpad ... I can see those photos. Initially just thumbnails but if I open one it's pulled across the Net in real time for me to see.
To take another and much more useful example I've got my contacts on my phone synced with Gmail and I've now synced the ViewPad with Gmail too. So as soon as I did that the ViewPad's contact list fills up with all my contacts. Now if I edit a contact on the ViewPad it's updated on Gmail and on my phone. In fact the most useful aspect of this is that the other day I did a complete audit of my contact list from Gmail and converted every UK phone number to +44 format (I try to remember to do this but sometimes I forget). All the changes then just got pushed onto both my phone and the ViewPad without me having to do anything more to make it happen.
Which raises another point in its favour: the ViewPad is in reality a BFO phone and you can use it to make phone calls. You'll look pretty stupid putting it to your ear mind you but you can use a corded headset or pair it with a Bluetooth headset.
So what's wrong with the ViewPad?
Well, the biggest thing is that because of the ARM processor they're using it doesn't support Flash so no BBC iPlayer. Although I gather Adobe are pulling out of support Flash on the mobile platform now anyway so it's HTML5 from now on so I'm not sure where that will leave us as HTML5 video support support on Android 2.2 is flaky at best.
YouTube video works, although only from in the YouTube app, and I can get video downloaded using get_iplayer to play, just, but it's a struggle: the audio and video are only just in sync.
My more general conclusion is that it has confirmed my suspicion that tablets can't replace netbooks or laptops if you're writing something. Soft keyboards suck for serious data entry. It's OK for a few words like a tweet or a status update or a quick reply to an email but for nothing more than that. For example I started writing this posting using the ViewPad but after only two paragraphs switched back to the trusty Aspire One netbook.
Anyway it's a fun device. I like its "always on" aspect, I like that it runs silently (unlike this netbook), I like that it's got everything I want to read to hand and it's convinced me that a tablet is a useful device to own. I'll probably want to upgrade to something with more grunt and later Android in a year or so but it'll keep me amused for now.