Ah, the joys of rail franchises. They're planning a new "Cambridge Science Park" (really Cambridge North) railway station which will be a lot easier for me to get to on foot or bike than Waterbeach, the next station north of here. I went to a public meeting about it tonight and asked a question.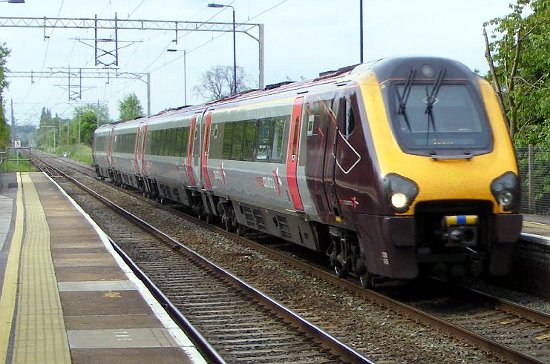 Cross Country DMU1
You see one of the really infuriating things about Waterbeach is that Cross Country franchise DMUs coming from the Midlands stop at Peterborough, Ely but then fly through Waterbeach without stopping until they reach Cambridge. They then go on to Stanstead and the airport and most users are heading that way: the train is usually packed with holiday makers by the time it gets to Peterborough. The same service runs the other way with the same stops.
Anyway if I'm heading north from Waterbeach they're no use to me (and similarly on my return). Surely this would be different for Cambridge Science Park: after all lots of business people will be coming and going from Stanstead so it will make sense for this service to call there?
Well maybe ... or maybe not.
It turns out that the problem is that Cross Country isn't the franchise that's going to be running Cambridge Science Park. It's going to be run by one of the others2. So Cross Country will have to pay an access fee to use the station and in any case there's every incentive for the franchise holder to deter airport users from using a Cross Country train but instead use their service to get to Stanstead.
Which won't worry people wanting to go to Stanstead from Cambridge Science Park but coming the other way from Stanstead I rather suspect the service will terminate at Cambridge Science Park.
I can't help thinking that if all the services were still British Rail the thinking would be rather more joined up.
Image copyright Ian Roberts and licensed under a Creative Commons licence.
---
Previous comments about this article:
On 26/05/13 at 11:37pm Graham Denison wrote:

On the subject of access fees I was surprised to have to pay $11.50 to get off the train at Sydney Airport. If you buy a weekly ticket at $51 you can travel on buses, trains and ferries over the whole of Sydney. In fact you can even go up to the Blue Mountains, an hour train ride out of the city. (UK take note)

But if you want to get off at either station at the airport, domestic or international, you pay the $11.50 surcharge.