As long time readers will know Beth and I use giffgaff SIMs in our main phones, and with good reason, their rates are hard to beat and, for us at least, since 95%+ of our mobile calls and texts are to each other the "unlimited free calls and text to other giffgaff users" makes it a no brainer.
But you may have noticed the use of the words "main phones" above. I have two phones now: my recently acquired HTC Desire HD for taking photos and being a smart phone and a Nokia 100 (a very basic GPRS phone) as an actual phone. They're both on giffgaff and I've had the former on a recurring £5 tablet "goodybag" which gives me 500MB/month (I typically use about half of that) and the latter I just top up with £10 every three months to keep the free calls and texts going. So the total annual cost is £100 for SIMs for two phones with free calls and text to Beth from either, cheap calls included to everyone else on the dumb phone, and 500MB on the smart phone.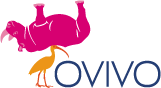 Then we had a network outage on giffgaff last week so I took a look around to see of there were any alternative and came across OVIVO. Now their offering is ... curious. You buy a SIM off them for £15 and for that you get to be on their "Freedom" price plan. That gives you: 150 mins, 200 texts and 400MB of data per month1, plus unlimited OVIVO to OVIVO calls and texts, at a cost of ... £0.
Yes, really, it's all free. There's nothing more to pay. Ever.
There is, of course, a catch. The catch is that they see what sites you visit (as that all goes through their APN) and occasionally serve you adverts based on your browsing habits. They say:
When you use OVIVO, we bring relevant information about products and services to your attention in as non intrusive a manner as possible. We don't make you watch advertising before getting our free service as our advertising is designed to complement and add value to your mobile experience.

When you sign-up for our service, you give OVIVO permission to use your data for marketing purposes. We will NEVER sell your information to 3rd Parties, but we use it to understand what kinds of products and services may be relevant to show you. Rest assured, your privacy is key and our privacy policy is available here on our website for you to read.
It's not clear to me how they do this. Trying to insert an advert into a web page is going to be difficult in the general case so I suspect they may simply divert you to the page with the advert on with a link in the advert to take you to your original intended destination.
Anyway I've bought a SIM and put it into my Desire HD. The way I figure it most of the network traffic I generate is mail, facebook and Twitter, none of which I do via a web browser, so even if there is the odd advert I can probably live with it2. We'll see3.
I'm also not entirely convinced it's a valid business model for OVIVO (they've just relaunched the service, I gather they were having problems with people with rooted phones getting around the advertising). But if it works out for more than three months then I'm in profit and in the long term it would bring my annual phone bill down to £40 a year for two SIMs!
---
Update 01/05/13
Well the news so far has been mixed. On the plus side Vodafone support SMS delivery notifications, something I like to have turned on4.
Reception continues to be mixed: I can get a 3G signal in Milton Country Park. On the other hand I can't get any sort of signal in Milton Tesco (not a huge problem as they offer free WiFi and my giffgaff phone, which I use for voice, does get a signal).
On the minus side advertising is now definitely on. The way it works it that on the first page you visit in a browsing session you get diverted to an interstitial page which shows you an advert. After five seconds a "continue" button is un-grayed out and you can continue to your intended page. This wouldn't be a great problem is I could get a 3G signal but as I'm on GPRS/EDGE most of the time the delay is actually more like twenty seconds as the clock doesn't start until the advert has completed its download.
This then repeats every ten minutes or so.
So all in all it's a bit of a curate's egg.