| | | |
| --- | --- | --- |
| « | Reading Rock Festival 1980 | » |
A discussion on Facebook which mentioned Slade made reminisce about seeing them at the 1980 Reading Rock Festival and that lead me on a little voyage of discovery. First that it was performance that lead to their comeback which I didn't know, or had forgotten.
As usual Wikipedia is my friend. It says the Slade went into decline in the late 70s and by 1980 Dave Hill "started driving couples to their weddings in his own Rolls-Royce, just to make money to provide for his family". But things were about to pick up:
Ozzy Osbourne, during his Blizzard of Ozz tour, was due to play the Reading Festival in August 1980. Osbourne cancelled at short notice leaving the organisers searching for a last minute replacement. Slade were suggested but Hill, still demoralised, had effectively left the band and initially refused when asked by the other band members. Eventually Chandler convinced Hill to play what should have been a farewell performance in front of 65,000 rock fans, instead of disbanding and disappearing without a trace. To Hill's astonishment, the band stole the show and quickly became darlings of the music press. Highlights of their performance were broadcast on BBC Radio 1's Friday Rock Show Reading special.
So that's how they came to be there. And they played a storming set, including "Merry Xmas Everybody" as an encore. As I remember it what actually happened was that Noddy asked what we wanted them to sing and for some reason we all decided that's what we wanted to hear (they'd not played it in their set).
"You're f*cking mad," he said, "it's August".
More shouts for "Merry Xmas Everybody".
"OK," he said "you sing it". So we did and Noddy launched in and we were off again.
Poor old Def Leppard, who came on next and got canned as no one could top the Slade set.
I also found this page of people's recollections and photos of the festival, which confirms a lot of my memories (although I confess that although I too remember "Rory Gallagher playing for seemingly hours and hours into the night" he bored me senseless).
It also reminded me how important the canning thing was. Bands that the festival took a dislike to were canned (wouldn't happen today, it's all plastic glasses only). So a shower of cans would fly towards the stage. And they were often half full ... not with beer either, wouldn't want to waste that. No, the punters would piss in empty cans before throwing them. Lovely. I'd also forgotten, and this came up in an email exchange I've had since, that some of the "cans" were Party Fours: those big cans which contained four pints of beer. So heavy even if empty.
Some bands, especially the relative unknowns doing the early sets, retired hurt only after a couple of numbers and refused to go back on.
But the surprise find was this photo about halfway down that page (reproduced here with permission of the photographer):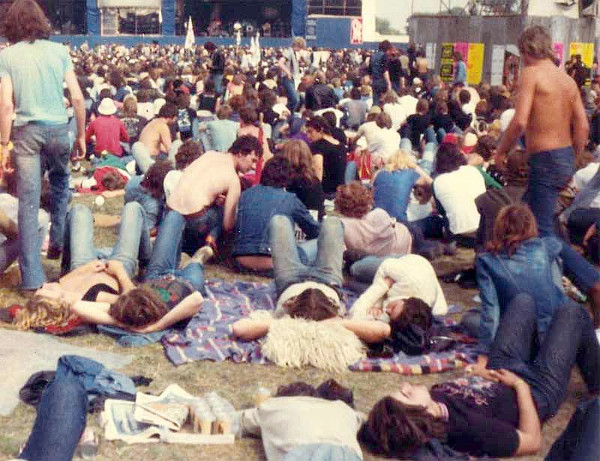 Chilling between bands © Ferg Ranson 1980
I have a sneaking suspicion, and so do some of my friends from that era, that the bloke on the right with his top off is Chris W, one of my oldest friends. I did for a while think the bloke on the left with the light blue T shirt was me - the build is certainly right as I was painfully thin then - but the general conclusion is that my hair was never that long. Damn.
The other thing I'd forgotten was the logistics. I knew we hadn't camped and intended, as we only lived 15 miles away, to commute in. But apparently it all went pear shaped on day one. Another friend, Nick, who was also there wrote when I emailed him about the photo:
Hi I do recall it well! You may remember that we decided (as we had a three day pass) we'd park my Ford Anglia in the 3 day car park. On returning after the gig closed on the first night we found my car surrounded by tents and in the pitch dark, we were screwed so went for plan B and a cab back to Fleet. Think we may have caught a bus back on the Saturday and during the afternoon's acts Chris (W) and I spent half an hour extracting my car which involved moving several tents (glad I was a scout) and breaking into 3 cars to move them, one of which had an alarm, my trusty tool kit coming in handy as we disconnected the battery to shut it up! (Always wondered what the owner thought!).
Those were the days: cars built in the 70's were pitifully easy to break into, not like today.
| | |
| --- | --- |
| Tags: music | Written 15/12/13 |