| | | |
| --- | --- | --- |
| « | Getting my Birthday off to Bang | » |
So yesterday was my birthday and, as I've done increasingly in recent years, I was having a birthday week and that day was off to Ely on the bus in search of amusement and pork burgers. As I left Pam, my 94 year next door neighbour, was opening the gates on her drive and said hello.
A few minutes later this happened: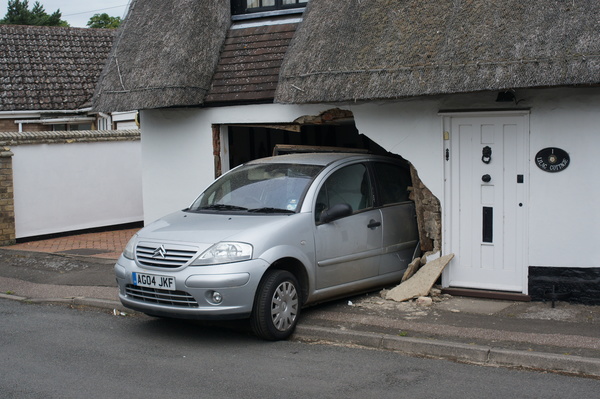 What had happened was that Pam had reversed, at some speed, backwards off her drive over the road - narrowly missing Hamish who was walking past at the time - before mounting the kerb and crashing her car through the window of the lovely Grade II listed thatched cottage opposite.
Luckily no one was hurt: Penny, who currently lives in the house, was away on holiday and Pam was only shaken. The house wasn't too healthy though. These old houses do seem to be rather shoddily built: Pam's car was almost undamaged but the roof of the room into which she crashed was sagging before the men turn up with acroprops and made it safe before putting shuttering on the front.

The scene today
Repairing it is going to be expensive, especially given its Grade II status, but Pam's insurance will have to cover that.