I have, I confess, being buying new toys. I blame Beth. Oh, and Amazon. You'll remember that a couple of weeks ago we cycled to the mouth of the Findhorn to see the seals. Beth was on her snazzy new fat bike and I was on my Marin San Rafael hybrid. This was OK on the forestry tracks (although hard work on my bottom) but with its thin tyres it was useless off road or on the beach.
I did toy with following Beth down the fat bike road but you don't get any change out of a grand for one of those if you want something vaguely decent so I looked at mountain bikes. Some research suggested that 29er tyres were the thing to have for someone my size, along with hydraulic brakes and front suspension. After a lot of shopping about I came across a Claud Butler Cape Wrath 02 on eBay. It was brand new but was last year's model so it was £340.98 including delivery.
The full spec was:
21" frame 6061 Double Butted T4 T6 Hydro-Formed Alloy With Tapered Headtube
Fork Suntour XCT HLO Suspension (Lockout)
Gears Shimano M360 Acera Rear, M311 Altus Front
Freewheel Shimano 8 Speed Cassette 11-32T
Shifter Shimano M310 Altus
Brakes Clarks EXO Hydraulic With 160mm Rotors
Wheels 36h Alloy QR Hub With Double Wall Alloy Disc Specific Rim
Chainset Sram Alloy 22-32-42T
Tyres Exile 29 x 2.3
Stem Exile Alloy Ahead
Bar Exile Alloy Flat 31.8 mm
Saddle Exile MTB
And here it is. That blue is pretty loud in real life and there's some yellow snake skin highlights on it which I could live without but I didn't buy it to look pretty.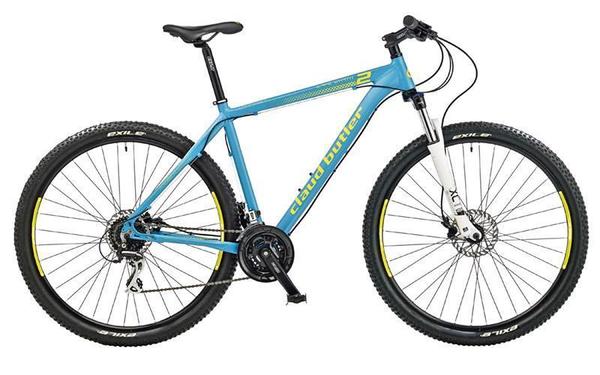 I did have some issues initially with a binding front brake which the vendors were unhelpful in resolving (it simply needed bleeding) but other than that it worked fine and I've been out on it, both on my own and with Beth.
Since I got it we've replaced the front "rotor" (bike speak for brake disc) as the original was 160mm (like the back) but the cool kids have 180mm rotors on the front and Beth had the OEM one spare as fall out from upgrading her brakes. That worked with the original Clark calliper with the aid of an appropriate £5 adaptor.
I've also replaced the handlebars with a pair with a bit of lift as I'm finding them a bit low. Also the stem with the original stem from Beth's fat bike. I'm not sure that the combination is enough yet but I'm holding off on doing any more for now.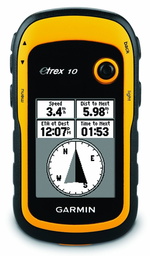 Next on the list was being able to record my tracks when out. Now I did already have a GPS, a Foretrex 101, but it's nine years old and it doesn't cope well with being under the trees (unlike the Foretrex 301 which Beth uses and which we used to record the track on our seals outing).
I was going to hold off buying something new but Tuesday was Amazon Prime Day (think "summer sale") and among other things they were offering 20% everything in Amazon Warehouse Deals and unfortunately that including the Garmin eTrex 10 for £49 with the discount (they're usually about £65-80 depending on who you talk to). So I grabbed it and it arrived yesterday.
Seems to do the job. We went out for an explore last night, partially following a route I'd created with my mapping application and put on it, although as you'll see from the track below we gave up just after the turn as the forest track heading back towards Nairn was very overgrown.
So we re-traced our route, pausing for a little explore to one side to look at the "Otter Pool" (no otters) and then veering off down to the beach for a slog back along there for a while. This is where the Cape Wrath 02 started to let me down. Those 29er tyres, even though they're 2.3" wide, are no match for Beth's fat bike tyres. But I only had to dismount twice in very sandy sections.
| | |
| --- | --- |
| Date started: | 14/07/16 |
| Distance: | 11.3 miles |
| Ascent: | 24m |
| Descent: | 23m |
| | |
| --- | --- |
| Time taken: | 2:36 |
| Moving time: | 1:58 |
| Average speed: | 5.76mph |
| Maximum speed: | 14.41mph |
Our track out and back
All in all then two new purchases which I'm very happy with. I'm still tweaking the bike and its accessories and I need a mount to put the GPS on my handlebars but the important thing is that I've now got some decent kit for exploring the Nairn area and further afield.