A better day today. A visit to Tobermory in the morning included a tour around the distillery there1 and a delightful lunch at the fish restaurant (called Café Fish - how imaginative) above the little ferry terminal at the end of the harbour (which allows dogs in the outside area so Jake joined us for lunch).
Then after popping back here for tea (as we'd also managed to buy a new gas bottle for Beth's Jetboil stove) we went back to Glen Buie for a picnic tea on the rocks ... including a nice cup of tea!
When we got back and were going to bed the sun was setting over the camp site and I caught this glorious photo with my phone camera.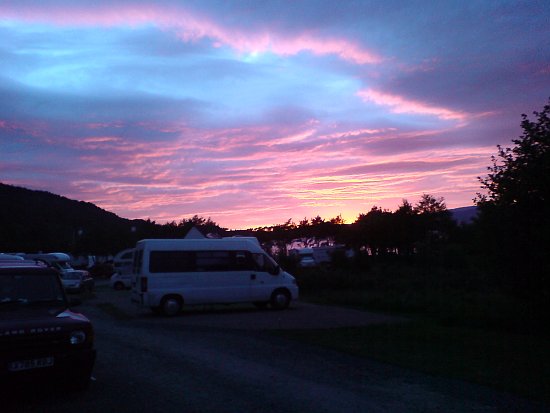 A slightly odd place, neither its inputs nor its outputs are done there: the malted barley comes from the mainland (nothing that unusual there) but the distilled spirit returns to the mainland to be put into barrels and cellared as the original warehouse where all this took place was sold when the distillery was last closed.