So today has been a little fraught. First getting Jessie walked and then Jack over to the vet for his operation. Then on to the police station in Histon to report yesterday's incident, not least because I suspected that the address details the owner the Staffie gave me yesterday were duff: the postcode didn't tie up with the road name.
After I'd been to the station I went to look at the road where the owner's house was meant to be located. The highest house number was 10, he'd said he lived in number 95. I also went to the road corresponding to the postcode. No number 95 there but it was all ex-council houses so at the risk of stereotyping Staffie owners it looked much more like the right sort of place.
Oh, and the telephone number he gave me is invalid too.
Anyway the police are looking into that with some help from some information I was able to provide them with later on. It's good to have helpful friends ...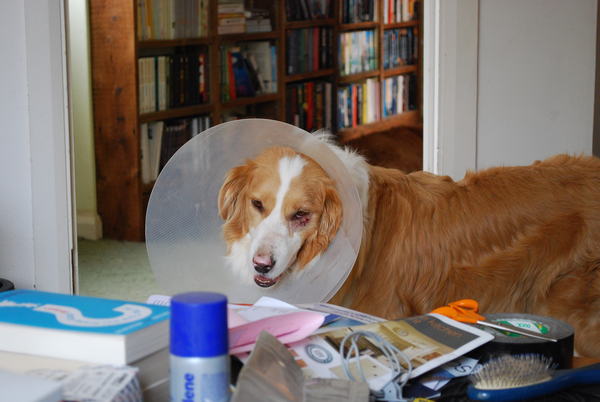 Meanwhile I was sorting out problems with a customer and keeping Beth happy before finally picking up Jack from the vet1 at 4pm and a sorry sight he looked as the photo shows.
I've also spoken to the Country Park. They're going to look out for the dog and liaise with the police so they're on board too.
---
Previous comments about this article:
On 19/04/11 at 12:25am Graham Denison wrote:

Typical teccy, can of Safeclene given pride of place on table. Hope Jack is getting on well, good luck on tracing the owners, just take care, Staffies are nice dogs, usually, but the owners are not, usually.