So the Samsung EX1 is gone, sold on eBay today after only owning if for about eight months. But now I've got the D5100 SLR, plus the HTC Desire HD phone which I mainly bought for its camera. And I've still got my trusty Panasonic TZ7 which is a great little point and shoot so something had to go.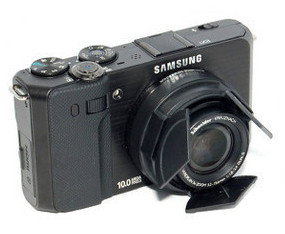 I didn't want to make the mistake I made with the last few cameras of with it gathering dust and ending out selling it for a song, like I did with the Minolta Dimage X, the Minolta A2, and the Olympus 2100UZ a couple of months ago when I had a clear out (which largely funded the Desire HD).
It has been a fun camera to own and I have had some great photos out of it, especially since I discovered the joy of stacking. It's reminded me how real photography does require you to use your brain rather than just saying "that's a nice view" and pressing the shutter button.
And some of the results have been very good. I think my favourite was the shot of Deep Pool in the snow taken in January.
But as I said something had to go and it was either this or the TZ7 and the TZ7 fills a different niche whereas the EX1 is largely there for the same shots as the D5100 but with a much smaller sensor. So now it goes to someone else, who tells me he's moving from twin lens reflex (now that is proper old school: the pro photographers at our local paper all had those when I was a kid) and film SLR to digital so he should be able to do some good work with the EX1.