I've been meaning to blog for a while now about the Google Chromecast that Beth bought me for my birthday and while I sit here and wait for our house file server to re-build its RAID-1 array it seems like a good time.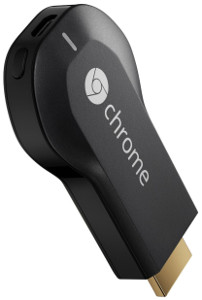 So what it is? Well it's a tiny little gizmo with an HDMI plug on one end which you plug into your TV or monitor. Sadly HDMI doesn't offer power so you have to plug power in the other end, which is done via the usual micro-USB socket.
It's easy to set up assuming that you've got an Android device. You download the Chromecast application and you can then connect to your Chromecast via your house WiFi and set it up1.
Once you've done that you're away. You can "cast" content from providers like YouTube, BBC iPlayer, and Netflix to your Chromecast. You can either do this from the appropriate app on your Android device or from the Google Chrome browser (once you've installed the Chrome Remote app). The latter even works on Linux.
And just to be clear here, because I didn't entirely understand the proposition either, once you've started casting some content from your device that device is out of the loop if you want it to be as the streaming is happening directly from the content provider to the Chromecast. That's not to say that you can't control the streaming from your device, you can - all the normal things like pause, skip and volume up/down all work - but you can turn off the device or (I suspect, not checked this yet) even connect another device to the Chromecast and control the stream from that.
You can also cast your own content to the Chromecast, so if you've got an MP4 on your hard drive you can cast it directly - but there of course you do need to keep your device on throughout.
The other thing you can do is cast the whole Chrome browser window to the Chromecast. In theory this opens up the possibly of streaming content which isn't supported properly yet like ITVplayer as you can watch it on Chrome in full screen mode but stream it to the Chromecast. Again I've not tried that.
You can buy one from Amazon or directly from the Chromecast site currently priced at £30. When I got mine Google were offering a £4.99 credit in the Play Store to spend on content so the effective price was £25.01.
So it's a really cool device. There is one fly in the ointment however and that's audio. We don't have a TV licence so we don't have a TV. We do have a monitor and it supports DVI not HDMI so I would need a converter which is easy enough but I also wanted the audio to come out on the hi fi.
The solution was an HDMI audio splitter which had the merit of both extracting the audio and also changing the gender of the HDMI to female and I already had a male HDMI to DVI cable. Shame it cost more than the Chromecast itself mind you.
But all in all it's a good toy and it's also lead me to sign up to Netflix although how long I'll keep that up I don't know2.
At the time I got it Blinkbox still was allegedly about to happen on Chromecast but still hadn't. Today as I was cursing Amazon for delaying shipping me The Newsroom Season 2 (which I ordered in March and they were due to ship me next month) until 27th October I discovered that not only did Blinkbox have it for £16.99, so £9.76 less than Amazon, but that without any fuss or announcement they were now supporting Chromecast. So I now have a Blinkbox account too and I've bought3 The Newsroom Season 2 ready to watch on my Chromecast (or Android tablet).
Happy days.
It does some clever peer-to-peer networking initially to let you select the right SSID for the Chromecast to connect to.