| | | |
| --- | --- | --- |
| « | Freebies for your Chromecast | » |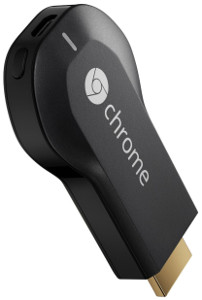 If, like us, you have a Chromecast, then it's currently worth wandering over to this URL and seeing what offers they have for you1. You'll need to do it using the Chrome browser as it needs a plugin so that the browser can talk to your Chromecast, which needs to be turned on.
When I looked there were four. Three were dull: 2 or 3 month free trials of Spotify, Sky Movies (what another streaming movie service?), or Google Play Music but with all of those you had to remember to cancel at the end.
However the fourth was a free movie rental from Google Play. Any movie. Use any time before 31st December. No strings attached.
So that'll save you a few quid depending on what you want to watch.