| | | |
| --- | --- | --- |
| « | Chromebook, First Thoughts v2.0 | » |
Just over six months after I bought and later returned my first Chromebook I'm back on the Google road again, this time with a Dell Chromebook 11" (2014). "Why now? Why that one?" you're asking yourself (well, you're probably not, but whatever, bear with me).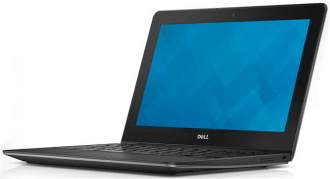 Why now is pretty easy: Christmas is approaching and I've already bought Beth's Christmas present1 so now it was time to think about a present for me. My elderly Acer Aspire One D250 Netbook seems slower and slower and it's now on its fourth keyboard I think so although it's done me pretty damn well since I bought it back in January 2010 I think it's time I had a new compact laptop.
Why a Chromebook rather than a conventional laptop? Well there is a well trodden path for getting Chromebooks running Linux, so I could have a dual boot laptop at a very reasonably price.
I talked in my last post on the previous Chromebook about getting an Asus Chromebook Flip when they came out. They are now out but they use an ARM processor and the general view seems to be that it's a lot easier to put Linux on an Intel processor Chromebook than ARM. Which left me looking around for an 11" screen Chromebook with 4GB of memory (which is the other thing everyone says you want rather than the rather paltry 2GB which a lot of the cheaper ones come with). In the comparative reviews the previous Dell model, the 2014 rather than the 2015, came out very well and it ticked all the boxes on memory and Linux compatibility.
But the final clincher was a trader on eBay who was selling Dell refurbished ones, with three years Dell next day RTB warranty, for £149. So I grabbed one and it arrived yesterday2.
I wasn't well yesterday but I did have a play with it while lying on the sofa nursing my migraine. First thoughts:
It looks good. Slim and well made. Also, despite being refurbished and "may have the odd minor cosmetic blemish" it was completely unmarked.
The keyboard is miles better than on the Lenovo n20p I tried before. It feels positive, no signs of flexing; a proper keyboard. I wrote the previous blog post on it last night while lying on the sofa and it was fine doing so.
On the down side however it the keyboard all the same design issues as the last one so this is clearly part of the Google spec. So there are no PgUp or PgDn keys (you use Alt-Up and Alt-Down) and no Delete (Alt-Backspace) and the function keys are replaced by dedicated keys for: back, forward, reload in browser history, make current application full screen (i.e. F11 type functionality), a button to tile the open applications, five buttons for brightness and volume up and down, and volume mute and finally one for keyboard lock.

There is no caps lock. That's replaced by a "search" button. That also doubles as a shift button. Hold that down and top row buttons becomes F keys!

I've never got on with touchpads but the good news is that it recognized my USB mouse without fuss on first boot. The bad news is that you can't disable the touchpad, although you can at least disable tap to click.
The file manager seems to have been improved. For example you can now write to the SD card (which doesn't stick halfway out this time!) and, with add ons, it supports both Dropbox and ownCloud (the latter via WebDAV).
Unlike the n20p this one does have a fan, but it's whisper quiet.
Anyway it's early days yet. The next step is a trial install of Linux. So more here later.
A Samyang 12mm F2.0 NCS CS lens for Sony E-Mount cameras like her A-6000. I can tell you this because she's already got it. We haven't quite got the hang of Christmas this year.