An extraordinary thing happened during our walk yesterday. If you look at the map of our route you can see a yellow and a red pin.
As we approached the yellow pin I said to Beth "You know, this has been a very fine walk but what I want now to finish it off is to see some deer". (I was thinking of the stag we saw on our Thaxted walk.)
Beth paused and looked around.
"You mean like those deer over there?"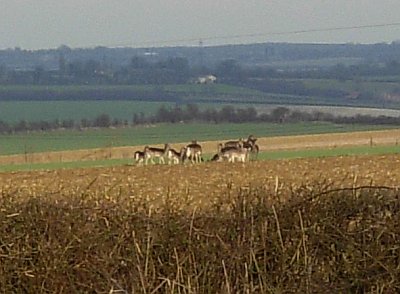 And there they were, eight or nine deer grazing two fields or about 1100' away (at about the point marked on the map with a red pin). I suspect they were fallow deer although they were too far away to tell. These images are the best we could get from some photos Beth took. I've had to crop them out of the middle of much bigger photos which is why the quality isn't that great.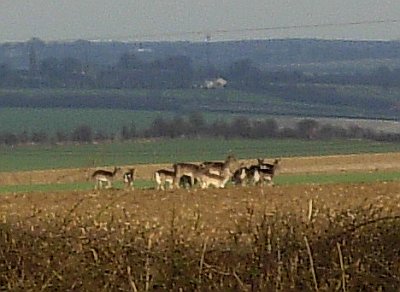 Now I'll swear I didn't see these deer before I spoke, in fact initially when she pointed them out I thought they must be sheep. So it seems you can call me the "deer caller" as I appear to be able to make deer appear at will!