We went to Leicester today. It was something of a serendipitous trip. We needed to get Dougal the Disco to Rogers of Bedford to have its head sorted out.
The problem with that is that only Beth can drive at the moment so how to get back. We could have used the bus but we didn't fancy that so we looked at the train. Bedford to Cambridge is a bit of nightmare by train - the National Rail web site wants you to go via London. Yes, really. All the main tracks around here run north-south and Bedford is two away on the other side of the east coast main line.
So we decided to go north, to Leicester and then pick up the cross country train south to Cambridge via Peterborough and take the opportunity to have some fun in Leicester.
Firstly I wanted a chance to have a look at Leicester railway station. I've only ever seen it from a train passing through or from the window of the car as we drive past but the front of it has always looked rather fine and I wanted time for a proper look.
Then we wandered down to the Leicester Sweet Centre1 for supplies of savouries and sweets. These are the people who catered for our wedding in 2005. Their food is gorgeous: I think they cook it all themselves on the premises, they sell it by weight (so you pick whatever you want, they put it all in one bag or box, weigh it and that's the price you pay), and they're very cheap. We paid £11.38 for a big box of savouries and a small box of sweets and they threw in some dips on top of that. Bargain.
Then back down the road past the station for lunch at the Halli restaurant on Granby Street which I'd picked out from the mass of indian restaurants in Leicester because they offered south indian food. We had their "businessman's special" which was quite excellent, as was the mango lassi (I'm not normally a great fan of lassis but this one was just right for me although a bit sweet and thick for Beth).
And then back to the station to get the train to Cambridge.
I paused to take this photo of a tower block near the station with my trusty K800i phone.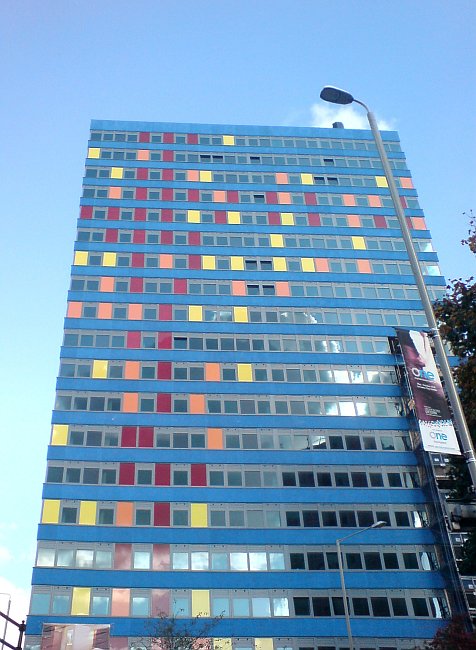 I don't know what this building is but I just love what they've done with it. Simply by masking off a few windows with rectangles of colour they've turned a dull structure into something really striking.
So we had a good time in Leicester2 followed by a two hour cross country train ride to Cambridge (during most of which I read a book - nice to have time to do that with no interruptions for a chance), a walk to Open Air to collect my trousers (which turned out to be the wrong size), and then a walk home via the river for supper of re-heated savouries.
What a great day!
They don't have a web site but you can find them at 156 Evington Road, Leicester, LE2 1HL, Tel. 0116 273 7198.
---
Previous comments about this article:
On 23/10/08 at 11:51am Paul wrote:

Some Googling about reveals that the tower block is the 82m St George's Central, a 60s tower block which was recently re-developed (and repainted) for mixed business and residential use. The colour scheme caused some controversy locally.